AFA Action Alert!
Governor Perry Signs 'In God We Trust' Bill
Your help is needed to place our national motto in every Texas classroom!
Dear Patriotic Texan,

On June 20, Texas Governor Rick Perry signed House Bill 219, which allows the posting of our national motto "In God We Trust" in all public schools in Texas!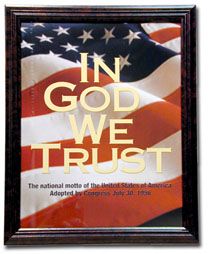 SECTION 1. Chapter 1, Education Code, is amended by adding
Section 1.004 to read as follows:

Sec. 1.004. DISPLAY OF NATIONAL MOTTO. "A public elementary or secondary school or an institution of higher education as defined by Section 61.003 may display the United States national motto, "In God We Trust," in each classroom, auditorium, and cafeteria."

Because the law does not grant tax dollars for posting the motto, it is up to individual Texans to supply the posters to their local school.

American Family Association friend and fellow Texan, Frank Williamson, has agreed to be the state coordinator for this project.

We need your help in placing our national motto in your local school classrooms!


ACTION NEEDED
AFA has provided an easy step-by-step guide for you and other patriotic citizens to place our national motto "In God We Trust" in each one of your local school's classrooms.


Ordering posters and frames
"In God We Trust" posters can be ordered online from the AFA Online Store or by calling 1-800-326-4543, ext. 211.

AFA is pleased to recommend Dallas-based Ridout and Roberts as suppliers of beautiful mahogony-finish 11 x 14 frames. These frames can be ordered in any amount for only $2.90 each, plus shipping.

For more information and ordering, contact Marc Ridout at 972-243-2990 or email him at ridout10@msn.com.


Donate to AFA
---